Yogyakarta, at the Southern tip of the island of Java in Indonesia, is the perfect place for cultural enthusiasts. This little city is filled with ancient temples and hidden treasures. Unfortunately for us, we had already booked our flight to Bali, so we had to make the most of a mere 2 days. Read on for the perfect 2-day Yogyakarta itinerary. Find the best things to do, the best places to stay, delicious things to eat, essential tips, & more!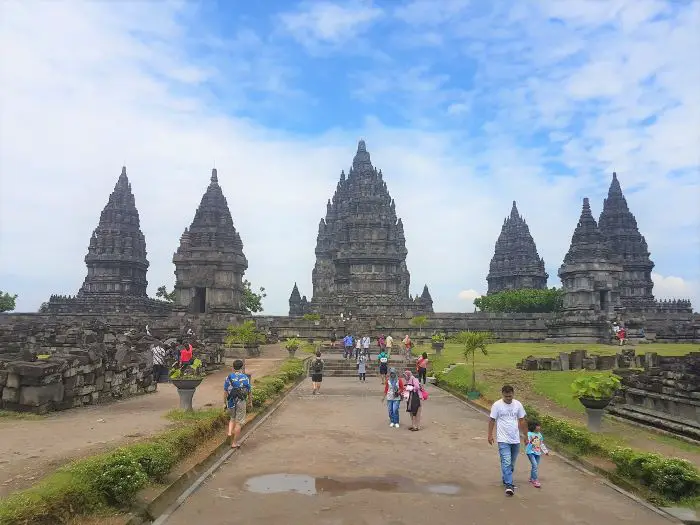 Disclosure: Untold Wanderlust contains affiliate links. If you click on these links and make a purchase, we will earn a small commission at no extra cost to you. You can find our full disclosure policy and privacy policy here.
Day 1 – Yogyakarta itinerary
Borobudur Temple
Borobudur Temple is the largest Buddhist temple in the entire world, and it dates back to the 9th Century. In recent years this temple has become an Instagram hot spot, so don't be surprised if you find yourself in a sea of selfie-stick-waving tourists when you arrive. Nonetheless, it's an essential stop on any Java itinerary. This temple is quite far out from the city but is a great spot to witness the sunrise over the mystic bell-like structures. To reach the site you can either opt to take a guided tour, book a minivan for around $6 from one of the tour agencies in Yogyakarta, or take public transport. The bus leaves from Jombor Bus Terminal in Yogyakarta and costs less than $1. The journey will take between 60-90 minutes, depending on your transport option. Once you arrive, the cost to enter the temple is $25.
Note: If you plan to visit both Borobudur Temple and Prambanan Temple, we recommend buying the combo ticket, which at $45 works out cheaper than buying tickets for Borobudur and Prambanan separately. Or, you could take a day tour of both temples.  A day tour will take the ease out of travelling there and will guarantee you make it in time for sunrise.
Taman Sari
The second stop on this Yogyakarta itinerary is Taman Sari. Taman Sari is a super pretty water castle that was built in the 18th century. Explore the stunning water ponds and get lost in the many passageways. The cost to enter the castle is just 15,000 Rupiah ($1.08).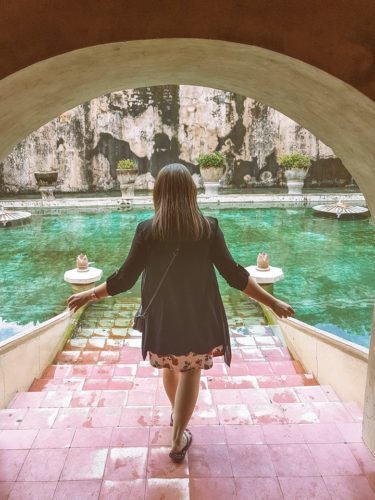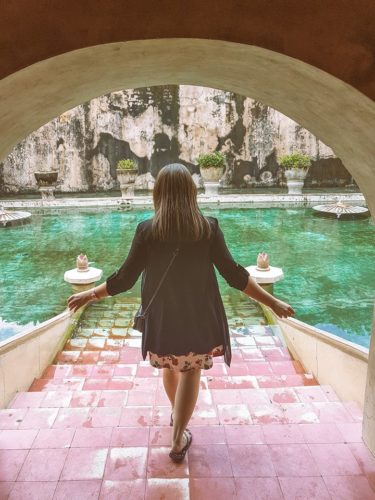 Tuk-tuk ride
Next up, take a ride in these cool carts that are pushed by a bicycle. Take your tuk-tuk from Taman Sari over to Malioboro Market. Sit back and enjoy the ride and the town's atmosphere around you. Pay no more than 30,000 Rupiah ($2.15) for two people in the tuk-tuk.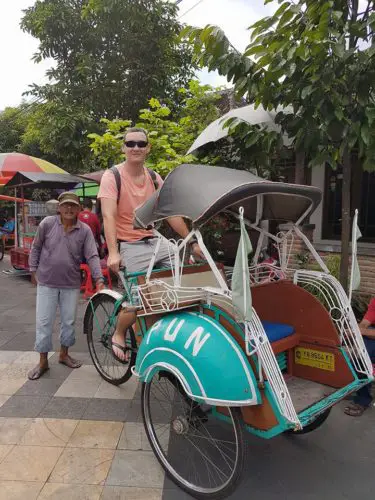 Malioboro Market
The Malioboro area is the heart of the city. You will find market upon market and stall upon stall, selling anything from rugs, to fruit, and everything in between. If you enjoy going to markets and buying random quirky souvenirs, this place is perfect to do a spot of shopping.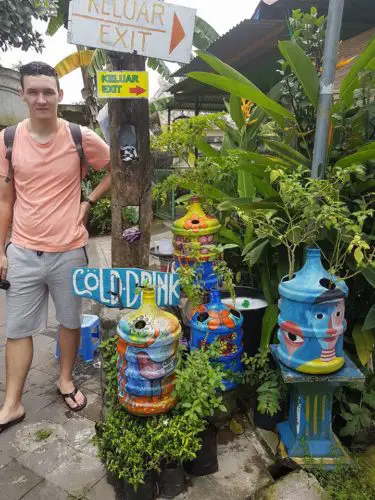 Warning: Be aware of people telling you that you need a sarong to enter the temples. What appeared to be a very helpful man stopped us and claimed he worked at a tourist information centre. He gave us some very useful information about getting to the temples and lots of other sites. Before long, he then proceeded to tell us we need a sarong to enter the temples and that the rental cost is $20. He offered to take us to a "cheap" stall where we could buy a sarong for $15 each. Luckily our common-sense instinct kicked in and we waited it out. Of course, when we arrived at the temples, it was apparent that sarongs are not needed to enter the temples.
Prambanan Temple
Next, hop on a public bus or rent a scooter to Prambanan temple. The cost to rent a scooter is around 70,000 Rupiah ($5.02) and the bus is 7,500 Rupiah ($0.54) one way. You will need to take bus number 1A from along Malioboro Road. Prambanan Temple is the largest Hindu temple in Southeast Asia, making it unmissable on a trip to Indonesia. The cost to enter the temple complex is 337,000 Rupiah ($25), but totally worth it! The intricate stone design is something to be admired. You can easily spend a few hours walking around the main temple and its smaller counterparts.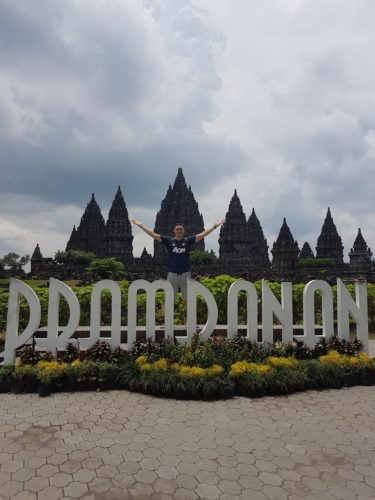 Day 2 – Yogyakarta itinerary
Rent a motorbike
Today is a full day of feeling the wind in your hair, whilst winding through lush mountains and nature. We highly recommend downloading maps.me and pinpointing a place called Mangunan. Head in this direction and you will see many turns that lead to amazing viewpoints. Here are just a few of them:
Wista Watu Goyang
This is the first viewpoint we stopped. The nature below is simply stunning. There are also quirky photo opportunities as well, such as a TV overlooking the valley and the butterfly plank. It costs just 2,000 Rupiah ($0.14) to enter and 2,000 Rupiah ($0.14) to park a motorbike.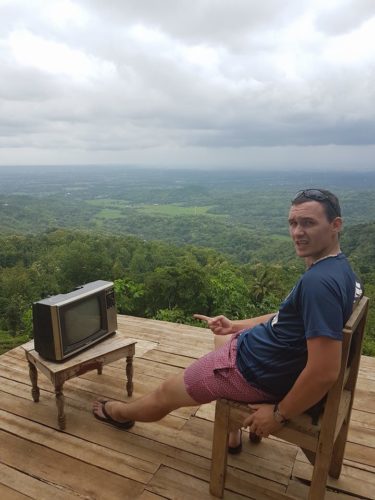 Kebun Buah Mangunan
Next up is Mangunan; the place that is advertised by the local tour agencies. Mangunan offers impressive views of imposing jungle-like trees, lakes, and streams. The cost to enter is 5,000 Rupiah ($0.36).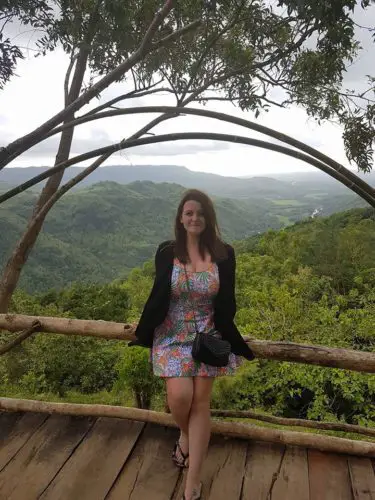 Hutan Pinus (Pine Tree Forest)
Walk through the thousands of towering pine trees. It's pretty cool to feel so small against nature. The cost to enter is 2,500 Rupiah ($0.18) and the cost to park the bike is 2,000 Rupiah ($0.14).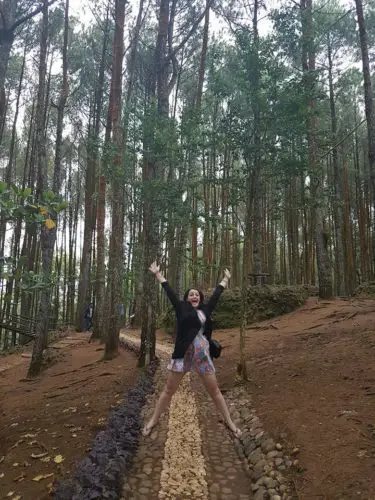 Pinnus Penggar
The last stop of the day is Pinnus Penggar. Unfortunately, due to getting rained off in the morning, and then again in the late afternoon, we didn't have time to make it to Pinnus Pengger. However, the views of the sparkling city lights, from cute little onion-shaped pods, are said to be stunning. From the pictures alone, it looks like the perfect romantic setting and end to the day. Just a quick Google search and you will know what we mean!
Eat gudeg
Finally, finish off your trip with some local Javanese food; gudeg. After all, a trip wouldn't be complete without a taste of the local cuisine. Gudeg looks like a bowl of mush but trust us it's delicious! It consists of rice, chicken, egg, coconut, and jackfruit, with a side of calfskin (which we flung off when we found out what it was). Weird combination, right? But surprisingly all the ingredients complement each other well. You will find many gudeg restaurants in Yogyakarta, particularly along Jalan Wijilan.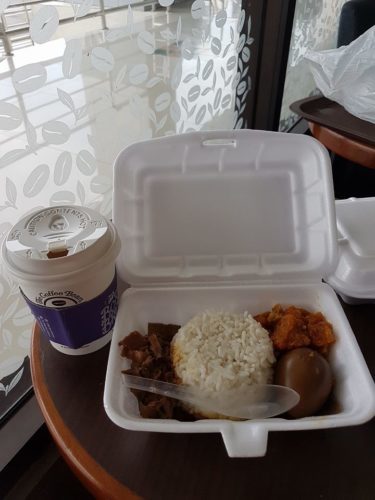 Where to stay in Yogyakarta
The Journey Hotel – We stayed at The Journey Hotel, located just 10 minutes away from Taman Sari temple. The quiet but close location to the main street makes this hotel the perfect place to relax after a long day in the hustle and bustle of Yogyakarta city. The hotel is newly built, and the design and decor are modern and contemporary. The beds are super comfy and each day the staff cleaned the room and provided fresh towels.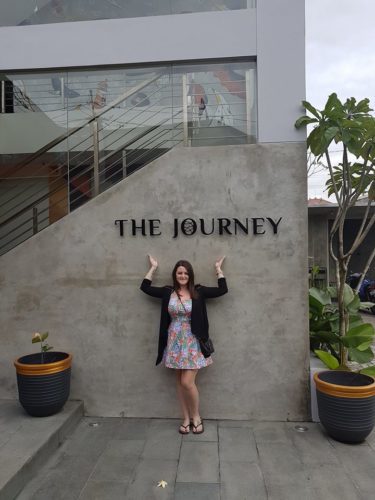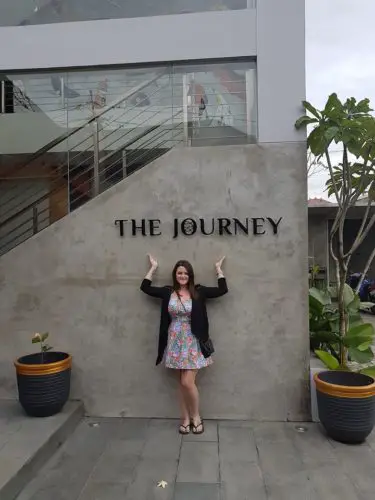 The Journey Hotel is a small family-run business. We felt as welcomed as a guest in their home! The Staff at the hotel are very friendly and helpful. They provided us with lots of information on places to visit, along with food recommendations.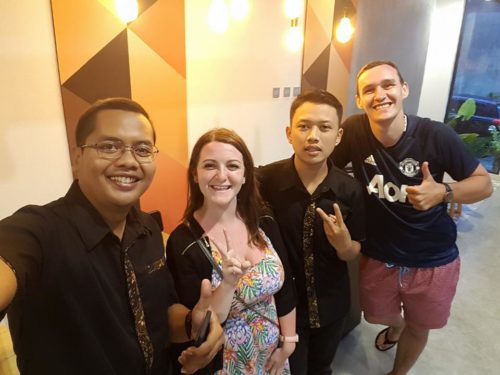 For more prices and deals on properties in Yogyakarta, CLICK HERE.
Essential resources for travelling in Indonesia
Travel Insurance – No matter where you're travelling to, it's a good idea to make sure you're covered for any accidents or losses. We spent days and weeks searching for insurance, but most insurers would not allow us to take out a policy as we were already abroad. Our personal choice is Safteywing. You can opt for automatic monthly payments, just like a subscription. More importantly, it is available in 180 countries and can be purchased whilst already travelling. There is no cap on the duration of travel.
Visa – Before you travel to any country, make sure to check if you need a visa. iVisa is a fantastic website that is super easy and quick to use. Just type in where you are from. and where you are going. to check if you need a visa. If you do, you can quickly make an application online.
Accommodation – Booking.com is our go-to when looking to pre-book accommodation online. Booking.com tend to almost always have the best rates and a FREE cancellation policy for most properties.
Overland transport – Our go-to website for overland transport is Bookaway. Bookaway offers multiple forms of transport, from buses, mini-vans, trains, and ferries. The routes on offer are extensive and certainly cover most of the backpacker trails. Bookaway works a little like Skyscanner but for overland transport. You will find plenty of transport options from a range of companies. All you simply need to do is book online and receive your ticket by email. The email will contain essential information, such as where the bus leaves from and departure and arrival times.
Tours & Activities – If you want to book tours and activities online, make sure to check out Get Your Guide. Get Your Guide takes the stress out of booking activities abroad. You will also find a range of benefits, such as skip-the-line passes, lunch included in your tours, and so much more.
Travel tips ebook -Before you head off on your adventure, make sure to download our free ebook. It has a whopping 109 budget travel tips to help you make your hard-earned cash go further. Click here to download your FREE ebook.
Well, that's a wrap for this 2-day Yogyakarta itinerary. We truly wish we had at least another 3 days to explore this cultural and buzzing city. However, we had already booked our flight over to Bali, which quite honestly, we weren't too fond of. You can read why we didn't like Bali here. Despite only having 2 days in Yogyakarta, we believe that we covered the best bits, from the stunning temples to tucking into delicious local food. This Yogyakarta itinerary is perfect for first-timers.
Continuing your travels through Indonesia? Check out our 2-week backpacking Indonesia itinerary.
Like this post? Pin it!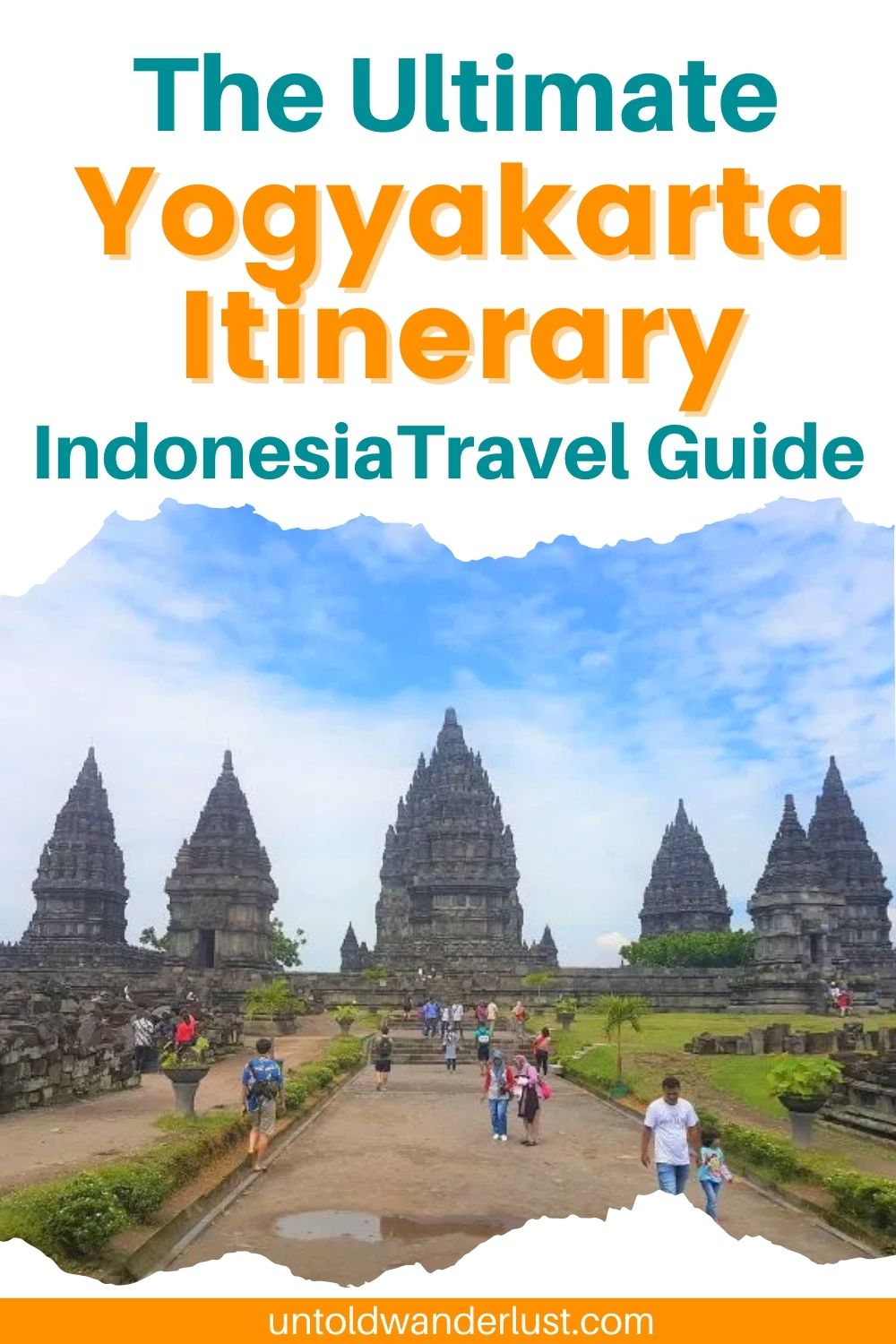 *We were hosted complimentary by The Journey Hotel. All opinions are our own, based on our experience.*