Lots of people like to drive during their vacations as it gives them the freedom to tour a country and get a glimpse of the famous sights and landmarks at their own leisure. For instance, taking road trips is popular in Europe as it offers a unique opportunity to easily view the majestic landscapes of the Arctic Coast Way in Iceland or the Gotthard and Oberalp passes in Switzerland. Meanwhile, getting around Hawaii by car is an experience in and of itself. Hawaii is dotted with breathtaking beaches, rainforests, and volcanoes, and luckily, it has a drivable coastline.
Disclosure: Untold Wanderlust contains affiliate links. If you click on these links and make a purchase, we will earn a small commission at no extra cost to you. You can find our full disclosure policy and privacy policy here.
That said, there are several ways to tour your travel destination by driving, as you can opt to either ship your car or rent a vehicle. In this article, we'll discuss everything you need to know about the two, including their booking process, benefits, and costs.
Shipping a car
How it's done
Transporting your vehicle can involve a truck, plane, or ship—and deciding which mode to use depends on which country you'll be visiting and how much you're willing to spend.
Upon choosing a car shipping company, the next thing you need to do is to get your documents in order; this includes a bill of sale, insurance documents, registration, and title. Before submitting these papers to the proper authorities to receive your shopping permits, you'll also need to acquire an inspection form from a certified mechanic confirming that your car doesn't have hidden damages.
Once the car is shipped overseas, the company will give you a tracking number where you can view essential information from the carrier's website. Once your vehicle arrives at your destination, the shipping company will then coordinate a pickup time and location that's convenient for you.
The benefits of car shipping
While shipping a car may seem like an extravagant expense if your vacation is longer than a week, and includes multiple stops that can be reached by road, it could save you time and money. If you are planning a long road trip or plan on travelling to different countries, you won't need to worry about renting a car at each place and finding a way to return it. If shipping the car by boat or train, it may be cheaper than renting multiple vehicles. Another big bonus is that you will also be familiar with your vehicle compared to driving a new model when renting.
Costs
Research different car shipping companies, read reviews online, and get various quotes to make an informed decision. That said, the cost of shipping your car varies across different freight shipping options. For instance, if your vacation entails you travelling from one state to another, then a passenger train may be your best option. For reference, transporting a standard-sized vehicle from Virginia to Florida is less than $300 one way.
Meanwhile, port-to-port shipping is ideal for getting your car across a large body of water. With this, you can pay somewhere between $1,500 to $2,000 if you're shipping your vehicle to destinations like Hawaii. Notably, if you opt for a consolidated container, this can be easier on your budget since you're sharing the ocean freight cost. Finally, the expense of using air freight —applicable for international trips to Europe– can easily exceed your car's actual value.
Renting a car
How it's done
Before explaining how to rent a car during your vacation, note that alongside the renewed interest in travel is the global rental car shortage at popular tourist destinations like Hawaii. Over the last few years, the Hawaii Tourism Authority shared that the number of rental cars on the island dropped by 40%. Thankfully, The Hawaii Department of Transportation stated that they didn't observe shortages in places like Maui or Oahu.
Using Oahu as an example, renting a car is easy and convenient. Those looking to rent a car in Oahu can book ahead using an online service. This allows you to reserve the car you want months before your trip. To rent the vehicle, you'll need a valid driver's license, and remember to bring your passport since it's a form of identification. Upon landing at Honolulu Airport, those visiting Oahu can conveniently pick up their rental car and start exploring straight away. This process will be the same or very similar no matter what country you visit.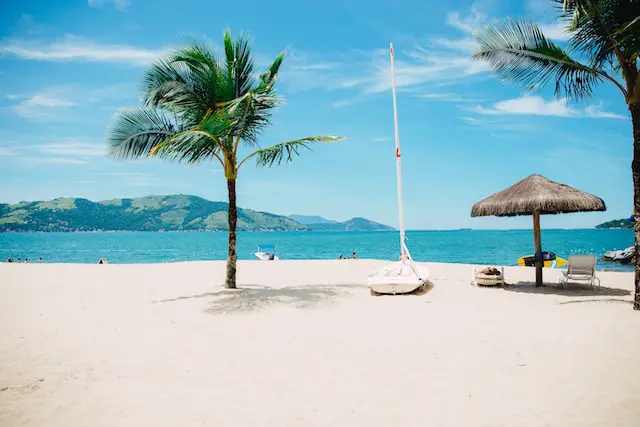 The benefits of car rentals
Renting a car lets you choose from a vast selection of vehicles and you can easily tailor the vehicle to your trip. If you want to go off-road, you can rent a 4WD, or if you plan on a long road trip, you can get a car with a larger trunk space than your own vehicle. You can also indulge yourself and rent a high-performance car that you wouldn't be able to afford back home.
Booking with a rental car company also gives you access to 24-hour roadside assistance. This lets you drive to every stop in your itinerary worry-free, as this protection includes flat tire and lockout services, the replacement of lost keys, and towing.
Costs
Depending on your location and chosen type of vehicle, a 7-day car rental can cost from $500 to over $1,000. Still, this is cheaper than port-to-port shipping, which can set you back up to $2,000. There are many ways to avoid incurring unnecessary expenses with rental cars. Paying surcharges for an airport fee may be added to the total if you rent a car at the airport terminal. This makes booking a rental car months before your vacation all the more important. You can also save money by carrying your own extras, especially since you can pay $3 a day for satellite radios and an even higher daily fee for a GPS system.
So, what's the better option?
Although it can be comfortable to go about your vacation using your own car, the costs of shipping the vehicle can be more financially taxing than simply renting a car at your destination. However, if your vacation is very long and involves travelling to different states or countries by road, then shipping your car may be worth it.