Macau is one of Asia's most fascinating countries. Also known as the Vegas of Asia, Macau is famous for its plentiful casinos, gambling scene, and Portuguese influences. Macau is relatively small, and you can easily cover the best of it in a day or even a day trip from Hong Kong. Whilst it may seem expensive to visit, you can in fact easily go backpacking in Macau on a budget. Here is the ultimate backpacking Macau itinerary.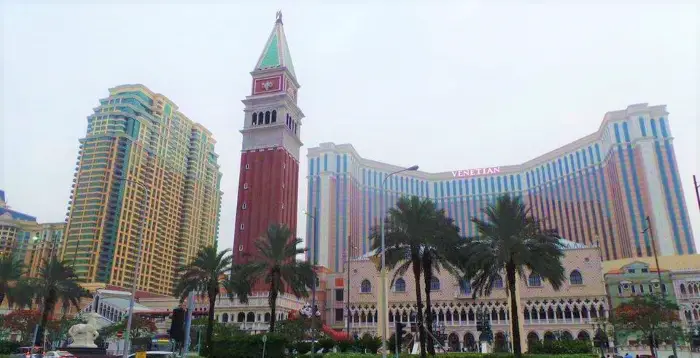 Disclosure: Untold Wanderlust contains affiliate links. If you click on these links and make a purchase, we will earn a small commission at no extra cost to you. You can find our full disclosure policy and privacy policy here.
How to get to Macau
Macau can easily be reached from both Hong Kong and mainland China. We made the crossing via ferry from Hong Kong. The ferry takes a swift one hour and costs 180 HKD one-way ($23.10), or 360 HKD ($46.21) return. To board the ferry you need to go to the China Ferry Terminal, which is about 1km north of the Star Ferry Terminal in Hong Kong.
When you arrive at the ferry terminal in Macau, you will be greeted by many buses that are bound straight for the casinos. The buses are free to board, and you can easily hop on the one that is closest to your accommodation; even if you're not going to the casino!
Backpacking Macau itinerary
There are plentiful things to see and do in Macau on a budget. Here is the perfect frugal traveller's Macau itinerary.
Visit Senado Square
Start the day by heading to the heart of Macau; Senado Square! As Macau is an ex-Portuguese colony, the architecture, and features of the buildings are western influenced. The square is filled with quirky little souvenir shops, clothes shops, and Chinese snack carts. This together with the scenic environment make this square a popular spot among tourists, so much so, it has become one of the most instagrammable places in Macau.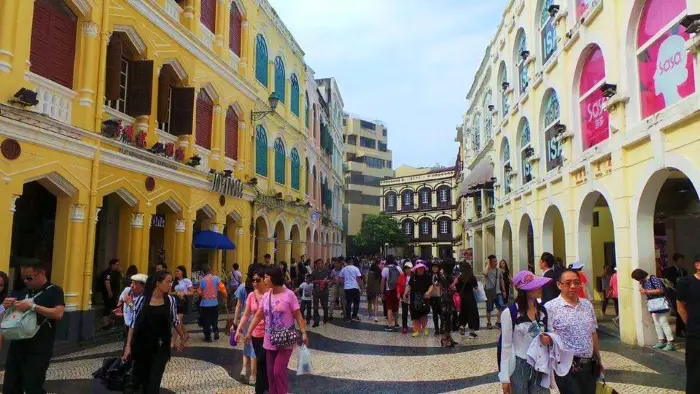 Check out the ruins of St. Paul
Next up on the Macau itinerary, is one of Macau's most famous attractions, the ruins of St. Paul. Visitors can see the remains of what was once one of Asia's largest churches in the 1600s.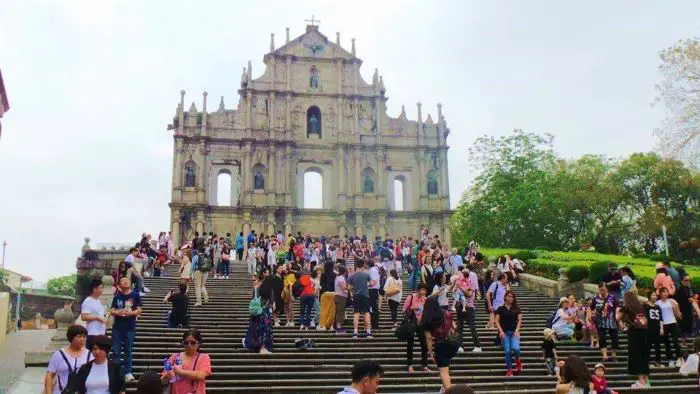 Snack on free samples at Pastelaria
As you wander around Senado Square make sure to visit Pastelaria for some free samples of different biscuits and cookies. These shops are dotted all around Senado Square. The biscuits are delicious! After snacking on all kinds of flavours you can choose your fave and buy some to take home with you.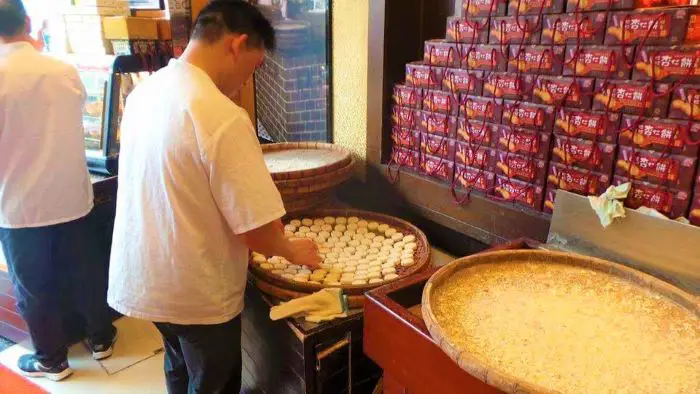 Indulge in Portuguese egg tarts
Speaking of snacks, the Portuguese egg tarts are a must-try! You will find them almost anywhere in Macau.
Go casino hopping
When night falls, it's time to move away from the shopping streets and head out to see the glitz and glam of Macau's casino life. Macau is known as the Vegas of Asia, so without a doubt, you should check out some of the grand casinos. Even if you don't want to make a bet, you can still have lots of fun with people watching. After all, this Macau itinerary wouldn't be complete without a cheeky peek into the rich and famous lifestyle.
The Venetian, Wynn, Grand Lisboa and MGM are just a few of the popular casinos. The Wynn, Grand Lisboa and MGM are all within walking distance of each other. To reach The Venetian you can take bus number 25A or 25 directly across the street of the Grand Lisboa.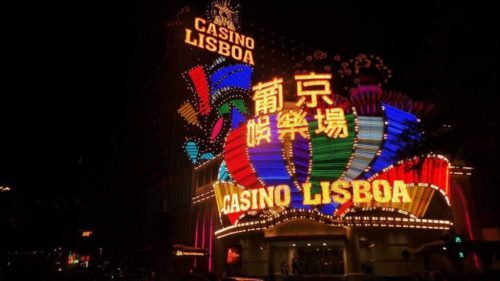 Where to stay in Macau
Feeling luxurious: Grand Hyatt Macau – This luxury hotel offers spa facilities and a swimming room. The rooms are decorated to a high standard and are spacious. Each room has a city or river view!
Budget private room: Ole London Hotel – This hotel is in an excellent location as it's just a 5-minute walk to Senado Square. The rooms are equipped with a kettle and a buffet breakfast is available to customers each morning. It is one of the cheapest double rooms in Macau!
For more prices and deals on properties in Macau, CLICK HERE.
Backpacking Macau costs
Currency: The local currency is the Macau Patacas. The exchange rate is currently 10 Patacas to $1.25 Both, local currency and the Hong Kong Dollar, are widely accepted. Sometimes you may even get change back in a mixture of both. Both currencies have the same exchange rate, so it is very easy to work out.
Daily budget: The daily budget can vary, depending on how much you want to play within the casinos. As we are not big gamblers, just $40 was enough to budget for the two of us, excluding accommodation costs.
Accommodation: Accommodation across Macau is generally expensive for backpackers. The cheapest room that we could find was $60 and that was for a very basic, old room.
Food and drink: Food and drink are generally the same as in Hong Kong. For a local meal, prices range from 40-70 Patacas ($5-$8.73). The price of water in a Seven-Eleven cost 9 Patacas ($1.12). If you want more information on what to eat in Macau, check out this excellent food guide.
Transport: Transport is relatively cheap. There are free buses to the casinos from the bus and ferry terminals. If you need to catch a local bus, expect to pay between 5-8 Patacas ($0.62-$1.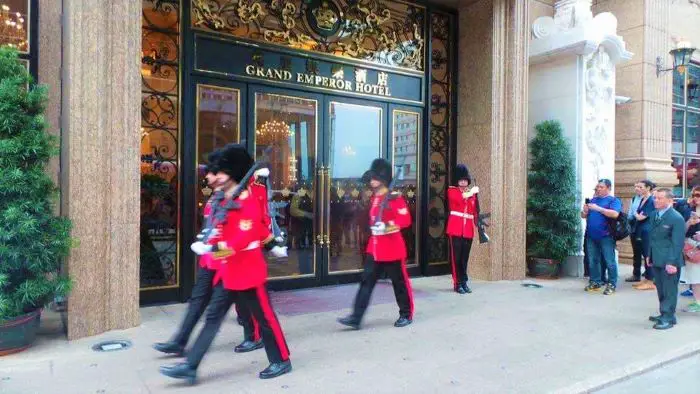 Backpacking Macau travel tips
Taxis – If you need to get a taxi, make sure the driver always starts the meter. The meters start at 17 Patacas ($2.12) and increase after 1 km. If you need to get a taxi from the Grand Lisboa, get it from the hotel just across the road to avoid having to double back around one-way streets.
Free shuttles –  Make use of the free shuttles! Even if you're not heading straight for a casino, you can still hop on the bus towards your hotel.
Cheaper places to stay – If you're a backpacker, staying close to Senado Square will be cheaper than staying by the casinos.
Minimum bets – The minimum bet in most casinos is 50 Patacas ($6.23) for roulette and 200 Patacas ($25.94) for most other games.
Casino dress code – We spent ages researching dress codes online; worried that we would be refused entry in our usual shorts and t-shirt travel ware. Don't worry too much about the dress code though. All of the casinos we entered allowed us to wear our shorts and trainers/ flip-flops
Essential resources for travelling in Macau
Travel Insurance – No matter where you're travelling to, it's a good idea to make sure you're covered for any accidents or losses. We spent days and weeks searching for insurance, but most insurers would not allow us to take out a policy as we were already abroad. Our personal choice is Safteywing. You can opt for automatic monthly payments, just like a subscription. More importantly, it is available in 180 countries and can be purchased whilst already travelling. There is no cap on the duration of travel.
Visa – Before you travel to any country, make sure to check if you need a visa. iVisa is a fantastic website that is super easy and quick to use. Just type in where you are from. and where you are going. to check if you need a visa. If you do, you can quickly make an application online.
Accommodation – Booking.com is our go-to when looking to pre-book accommodation online. Booking.com tend to almost always have the best rates and a FREE cancellation policy for most properties.
Tours & Activities – If you want to book tours and activities online, make sure to check out Get Your Guide. Get Your Guide takes the stress out of booking activities abroad. You will also find a range of benefits, such as skip-the-line passes, lunch included in your tours, and so much more.
Travel tips ebook -Before you head off on your adventure, make sure to download our free ebook. It has a whopping 109 budget travel tips to help you make your hard-earned cash go further. Click here to download your FREE ebook.
Where are you heading next? Consider crossing the border into mainland China! Check out our ultimate 30-day backpacking China itinerary here.
Like this post? Pin it!