Here's how to spend 2 weeks in Indonesia. This ultimate backpacking itinerary will take you through the cultural city of Yogyakarta, stunning rice terraces and temples in Bali, and heavenly beaches on the Gili Islands.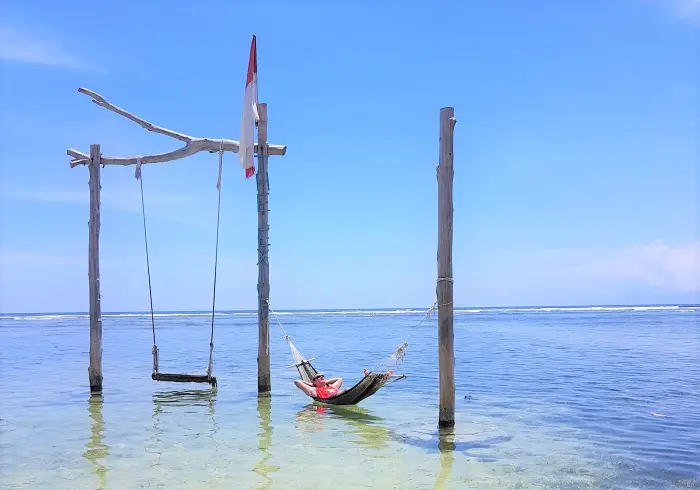 Disclosure: Untold Wanderlust contains affiliate links. If you click on these links and make a purchase, we will earn a small commission at no extra cost to you. You can find our full disclosure policy and privacy policy here.
Getting to Indonesia
Indonesia is made up of over 13,000 Islands in the middle of the Pacific Ocean. We, therefore, advise you to enter Indonesia by flight. Flights into Indonesia are relatively cheap if you fly into Jakarta, Yogyakarta or Bali. All of which are perfect for hopping onto coastal cruises. Tip: Most flights have a connection in Kuala Lumpur. It may work out cheaper to break up the two legs.
P.s. You may want to spend 2 days in Kuala Lumpur before taking a connecting flight. Check out these awesome things to do in Kuala Lumpur!
Backpacking Indonesia 2-week itinerary
As Indonesia is made up of thousands of Islands, it would be near impossible to cover everywhere that this fascinating country has to offer. In only 2 weeks, we have chosen the best spots and highlights of each place.
3 days Yogyakarta itinerary
We start this backpacking Indonesia itinerary in Java's jam-packed temple city, Yogyakarta. Yogyakarta often gets overlooked in favour of the famous beach resort island of Bali, but we preferred Yogyakarta much more! It's filled with culture, scenery, and temples.
Prambanan Temple
Prambanan Temple is the largest Hindu temple complex in Southeast Asia. You could easily spend hours roaming around this huge complex. The cost to enter is $25.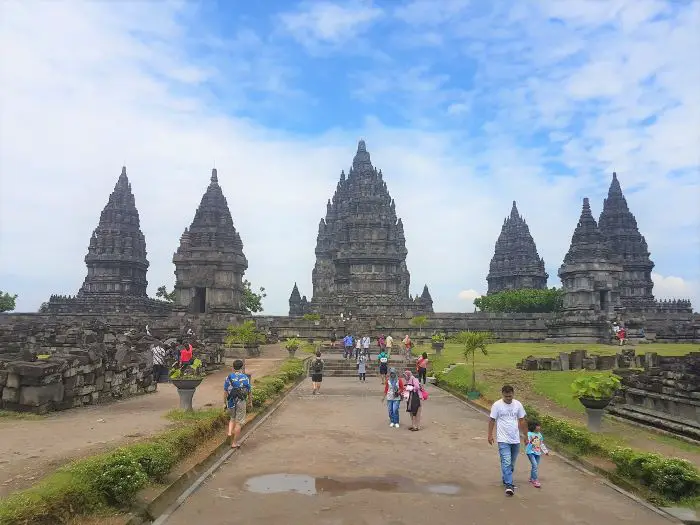 Borobudur Temple
A UNESCO world heritage site temple that dates to the 8th century. This temple is probably the most visited in Indonesia. Many people come here to watch the sunrise over the fascinating carved stones. The cost to enter is $25.
Tip: If you plan to visit both Prambanan and Borobudur Temples, you can buy a combo ticket for a discounted price of $40, or take a day tour of both temples.
Taman Sari
Taman Sari is a water castle built in the 18th century. The site is a former royal garden but is now used as a resting and meditation area. The cost to enter is just 15,000 Rupiah ($1.07).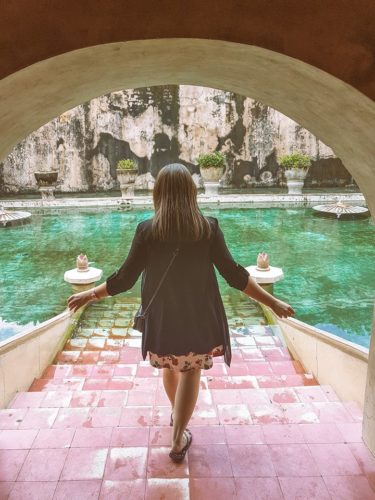 Psst…want to see more beautiful places like this in Indonesia? Check out these 25 stunning photos.
Motorbike trip up the mountains
Rent a motorbike for the day and explore the nearby mountains and many viewpoints along the way. The cost to rent a motorbike is 70,000 Rupiah ($5). As you drive up the mountain, you will see many signs that point in the direction of various viewpoints and nature spots. Make sure to follow the signs. A drive up the mountain can take a full day!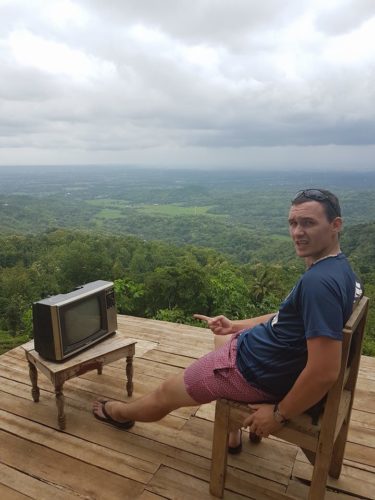 For more information and things to see and do in Yogyakarta, check out our Yogyakarta guide.
Where to stay in Yogyakarta
The Journey Hotel – We stayed at the Journey Hotel, located just 10 minutes away from Taman Sari Temple. The quiet but close location to the main street makes it the perfect place to relax after a long day in the hustle and bustle of Yogyakarta City. The hotel is newly built, and the design and decor are modern and contemporary. The beds are super comfy and each day the staff cleaned the room and provided fresh towels.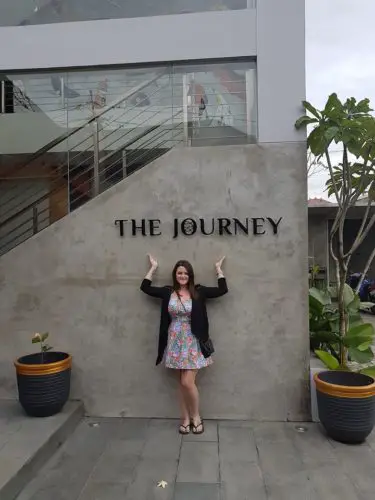 For more prices and deals on properties in Yogyakarta, CLICK HERE.
5 days in Bali
Yogyakarta to Bali
Take a cheap flight from Yogyakarta to the famous holiday destination and digital nomad paradise, Bali. Whilst you can make the journey overland cheaper, we recommend taking a flight as it doesn't cost much more, and it will save you a full day. Once you arrive, you may also want to find purchase a sim card in Bali for data to help you get around.
Bali is filled with Instagram spots, lush rice terraces, beautiful beaches, and authentic temples. But with only 5 days, we plucked out the best attractions to visit.
Ulan Danu Temple
The picturesque temple is situated on beautiful grounds surrounded by a lake and mountains. For the more adventurous budget backpacker, use the back entrance for FREE. There are also more photo opportunities in this area with no one else around.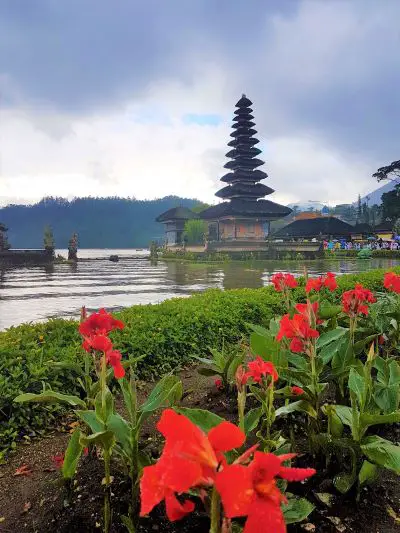 Tanah Lot Temple
The shore beneath the temple is the perfect place to watch the sunset whilst the waves crash against the rocks. There is a charge to enter the temple, but we opted against going inside. The cost to enter is 60,000 Rupiah ($4.28) per adult foreign tourist. You can go to the shore area for free and admire the temple from the outside.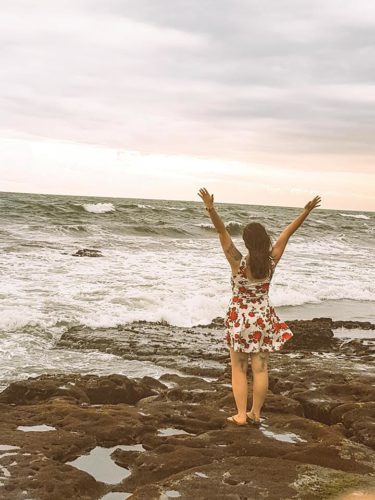 Tirta Empul Temple
Trita Empul is a temple complex and holy water spring. When you arrive, you will find many people, locals and tourists alike bathing in the famous waters. The cost to enter the temple is 30,000 Rupiah ($2.14).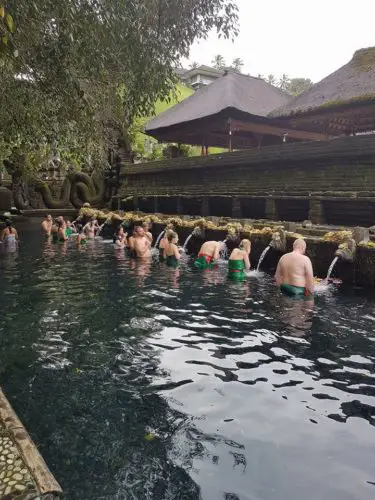 Goa Gajah Temple
This temple is also known as the Elephant Cave. The temple has an interesting design and is situated on beautiful grounds filled with flowers and ponds. The cost to enter is 15,000 Rupiah ($1.07).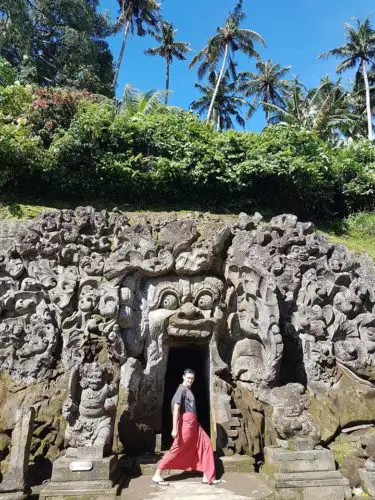 Tegalalang Rice Terraces
Tegalalang Rice Terrace is one of the most "Instagrammed" rice terraces in the world. The best bit…it's FREE to enter.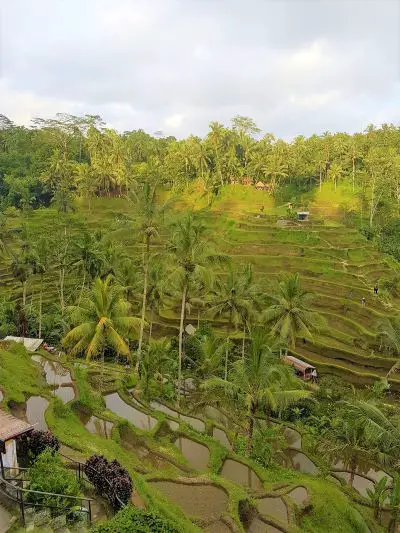 Tegenungan Waterfall
One of the most popular and beautiful waterfalls in Bali is the Tegenungan Waterfall, located just outside of Ubud. The waterfall is just 10,000 Rupiah ($0.71) to enter, and unlike most waterfalls, the hike down is very easy and takes less than 10 minutes.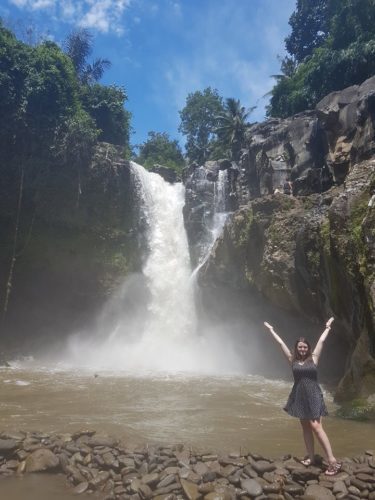 Aside from seeking out these attractions, we highly recommend hiring a scooter and exploring freely. There are many other rice paddies and temples to explore. In fact, one of our better days in Bali was the day we went without a plan and drove down small narrow dirt roads. There is plenty of stunning nature to see on the island without mass crowds of tourists and touts.
Need more information about Bali? Check out this ultimate backpacking Bali post. 
Where to stay in Bali
Grandmas Hotel – Grandmas Hotel is a chain of hotels across Bali. The hotels are great for people who are looking for an alternative to expensive resorts in Bali. They provide comfy rooms and spa services.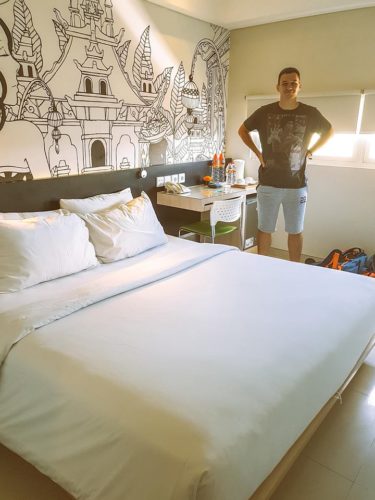 For more prices and deals on properties in Bali, CLICK HERE.
Gili Trawangan itinerary for 3 days
Bali to Gili Islands
After all the driving and temple exploring in Bali, head over to Gili Trawangan (also known as Gili T). The beaches here are stunning! To get to Gili T you can book a bus and ferry combo from the many tourist shops in Bali. The prices of transport packages are around 250,000 Rupiah ($17.83).
Before going to Gili T, we had read that this is the party island of the 3 Gilis; Gili T, Gili Air, and Gili Meno. However, we thought the balance between relaxing and partying was perfect; not too rowdy but not too quiet! There isn't much to do on the island but aside from being a beach bum for a few days, there are a few things to do.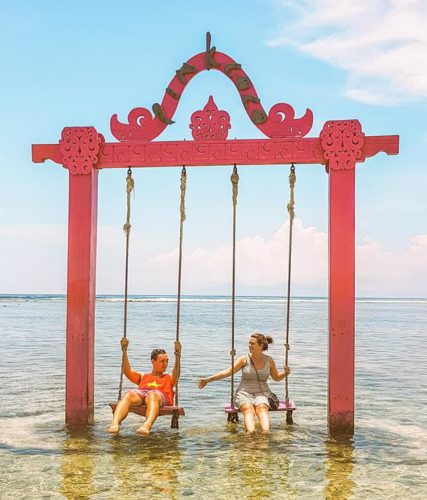 Rent a bicycle
Rent a bicycle and cycle around the island. You can cycle a lap of the island in an hour, but we stopped off many times for photos on the swings in the sea and a few beers.
Eat dinner during sunset
There are plenty of eateries dotted along the beachfront. Take the opportunity to pitch up at one of the restaurants just before sunset, so you can enjoy a nice meal whilst watching the sun go down over the stunning sea.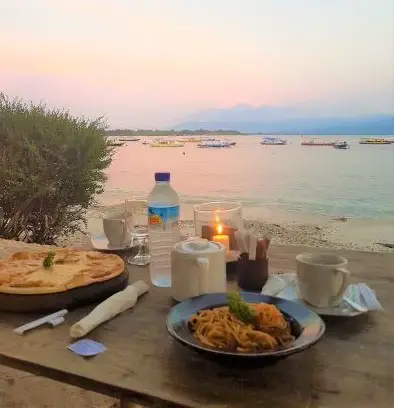 Take a snorkelling trip
Book a snorkelling trip and visit all 3 islands! On the trip, you may get lucky and see sea turtles too. The trip costs just 100,000 Rupiah ($7.13) and you can book it at the many tour agencies on Gili T. Be careful not to drop your snorkel though, as you will find yourself splashing out $40 to replace them – as Jake did! In case you plan to do a lot of snorkelling, we recommend you consider buying your own snorkel!
Where to stay on Gili T
Gili Nyepi Guesthouse: This guesthouse is nestled among tropical gardens and just a 5-minute walk to the beachfront. It's perfect for those on a budget! The rooms are cosy, clean and are well equipped with A/C, a safe, and toiletries. Each room also has a terrace for you to relax on.
For more prices and deals on properties on Gili T, CLICK HERE.
3-day Lombok itinerary
Gili T to Lombok
After a few relaxing days on Gili T, we recommend taking the ferry to Kuta Lombok; the last stop on this 2-week Indonesia itinerary. You have 2 options to get from Gili T to Lombok.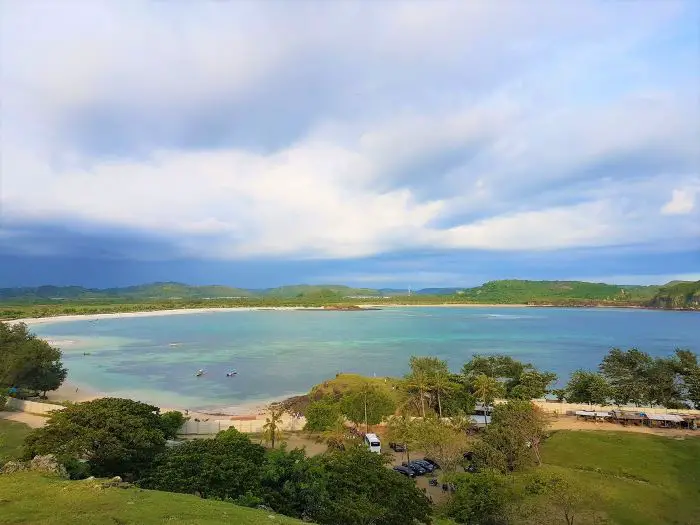 Book a package: A package trip includes the ferry trip and a bus transfer to Kuta Lombok. This option was quite expensive so we decided to go it alone.
Public ferry and bus: Take a local ferry which costs less than $1. The ferry docks at Bangsal in Lombok. You will then need to take a 90-minute car/ van ride to Kuta Lombok. A van should cost no more than 100,000 Rupiah ($7.13) per person – Don't pay any more than that! We opted to try to get a local bus, which was quite difficult to do as the bus stop is not well signposted and touts kept trying to tell us that there are no local buses. There is a public bus, but you need to walk 1.5 km to the bus stop. The bus only takes you to Mataram, where you will then need to get another bus to Kuta. In the end, we only saved about $3. On the other hand, it was nice to experience an authentic local feel, which we had struggled to encounter in Bali. However, if you are under a time constraint, getting the shared van is a much easier option.
Things to do in Lombok
Once you reach your accommodation, it's time to get out and explore the island of Lombok. Here are a few things to see:
Beaches
Viewpoints
Waterfalls
Markets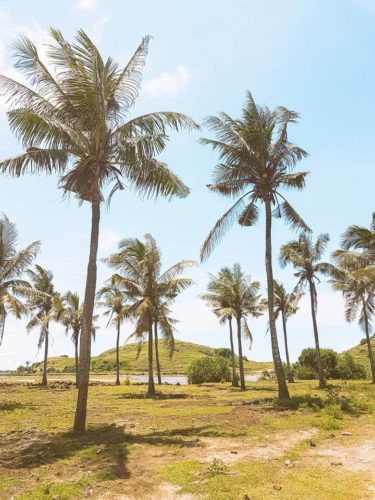 Quite honestly, by the time we arrived in Lombok, we were tired, worn out and ready to go back home to Vietnam. Consequently, we decided not to explore too much, but stay by the pool, relax and sip a few beers.
Are you looking to take a live-aboard diving trip? We are not experienced in this area but Indonesia seems like a great place to start. Check out this great post that will help you make an informative decision on which liveaboard trip is best for you.
Where to stay in Lombok
Kuta Lemon Tree: Has cute little huts and a swimming pool in the centre. It's the perfect retreat for couples that are on a budget but want a few luxuries. It's also surrounded by nature and gardens, which is perfect for nature lovers.
For more prices and deals on properties in Lombok, CLICK HERE.
Backpacking Indonesia travel cost
Currency: The local currency in Indonesia is the Indonesian Rupiah. The exchange rate is $1 to 15,000 Rupiah.
Daily budget: We recommend a budget of $25 per day in Yogyakarta and Lombok. In Bali and the Gili Islands consider a budget of $35.
Accommodation: Accommodation costs range significantly. For budget accommodation in a private room, expect to pay around $10+. Alternatively, dorm beds start from $5.
Food and drink: For a local meal at an inexpensive restaurant, expect to pay around 25,000 Rupiah ($1.78). For Western food, you will pay around 50,000 Rupiah ($3.75).  A large bottle of water costs 10,000 Rupiah ($0.71). Local beer costs around 15,000 Rupiah ($1.07) at inexpensive bars.
Transport: Transport is generally cheap through Indonesia. We recommend downloading the Grab app and using the taxi service to get around. The app will show you the price beforehand, so there is no chance of getting ripped off.
Backpacking Indonesia travel tips
Download Grab – Grab is a great taxi service available throughout Indonesia. Download the app and order a taxi car or motorbike. The price of the journey is shown to you on the app beforehand, which will prevent you from being ripped off.
Consider flying – Flying between the islands can sometimes work out cheaper. For example, it was easier and cheaper to fly from Java island to Bali than it was to take a ferry.
Look for accommodation on arrival – The walk-in rate is often cheaper than it is online.
Hire a scooter – If you are a competent driver, we recommend hiring a scooter to get around. You will see much more, and it will work out much cheaper than taking taxis.
There is more to Indonesia than Bali – A lot of travellers head straight for Bali but remember there are over 13,000 islands. Take some time to explore other parts of Indonesia. We are quite bummed that we didn't spend more time in Yogyakarta.
Pack a sarong – You need to wear a sarong to enter most temples and holy places in Indonesia. Usually, you will be able to borrow one at the entrance, but touts will pester you to purchase one before you even get to the temple entrance.
Want to make your trip even more legendary? Click here for more effective Indonesia tips.
Essential resources for travelling in Indonesia
Travel Insurance – No matter where you're travelling to, it's a good idea to make sure you're covered for any accidents or losses. We spent days and weeks searching for insurance, but most insurers would not allow us to take out a policy as we were already abroad. Our personal choice is Safteywing. You can opt for automatic monthly payments, just like a subscription. More importantly, it is available in 180 countries and can be purchased whilst already travelling. There is no cap on the duration of travel.
Visa – Before you travel to any country, make sure to check if you need a visa. iVisa is a fantastic website that is super easy and quick to use. Just type in where you are from. and where you are going. to check if you need a visa. If you do, you can quickly make an application online.
Accommodation – Booking.com is our go-to when looking to pre-book accommodation online. Booking.com tend to almost always have the best rates and a FREE cancellation policy for most properties.
Overland transport – Our go-to website for overland transport is Bookaway. Bookaway offers multiple forms of transport, from buses, mini-vans, trains, and ferries. The routes on offer are extensive and certainly cover most of the backpacker trails. Bookaway works a little like Skyscanner but for overland transport. You will find plenty of transport options from a range of companies. All you simply need to do is book online and receive your ticket by email. The email will contain essential information, such as where the bus leaves from and departure and arrival times.
Tours & Activities – If you want to book tours and activities online, make sure to check out Get Your Guide. Get Your Guide takes the stress out of booking activities abroad. You will also find a range of benefits, such as skip-the-line passes, lunch included in your tours, and so much more.
Travel tips ebook -Before you head off on your adventure, make sure to download our free ebook. It has a whopping 109 budget travel tips to help you make your hard-earned cash go further. Click here to download your FREE ebook.
We hope this 2-week Indonesia itinerary has helped you plan your trip. We know it doesn't cover everything (who could with so many islands!), but we believe it offers a great balance of everything; culture in Yogyakarta, nature in Bali and beaches in Gili T and Lombok.
Where to next? Why not head over for some more beach time on a backpacking Thailand trip?
Like this post? Pin it!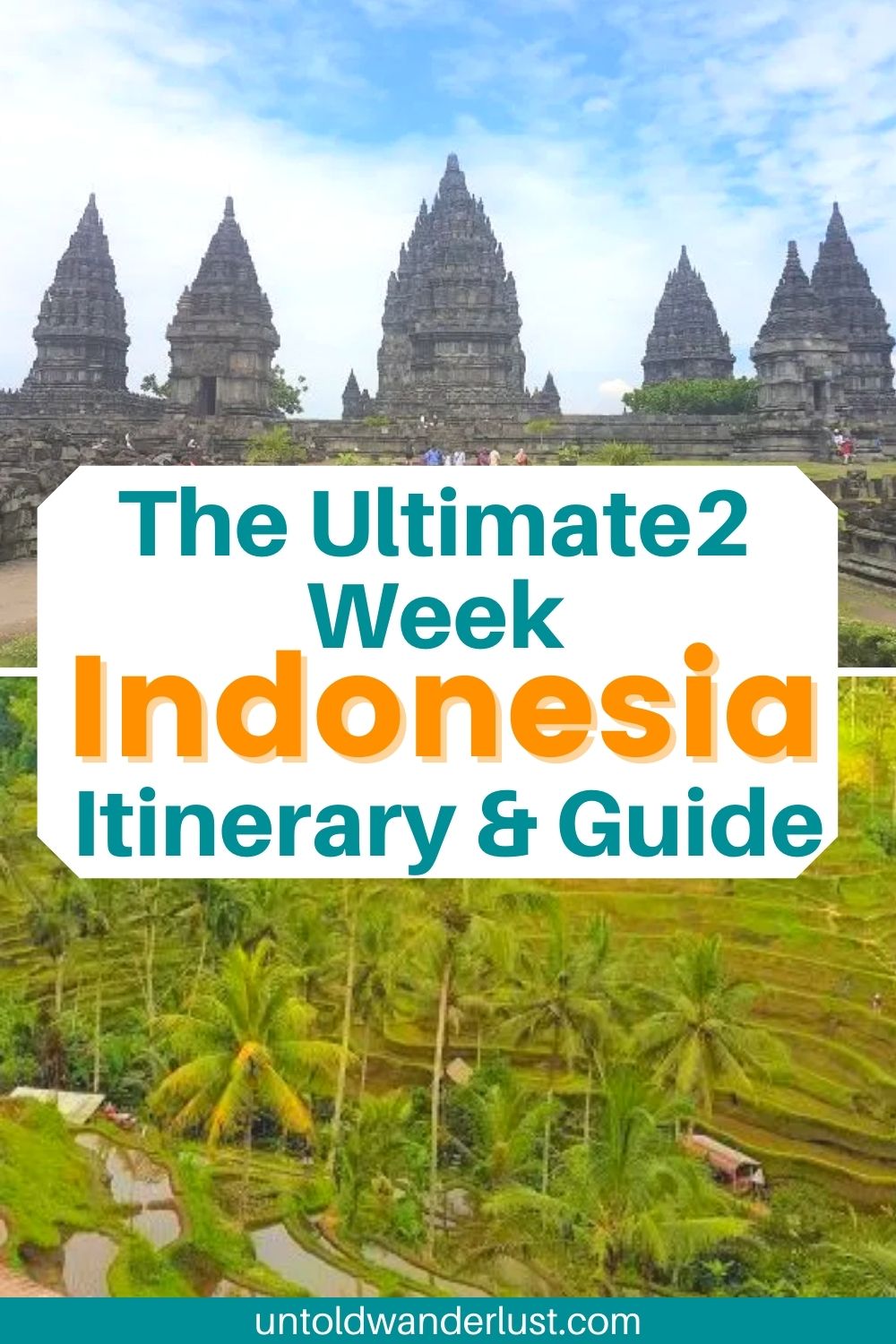 *We were hosted complimentary by The Journey Hotel and Grandmas Hotel. All opinions are our own, based on our experience.*