Are you planning a cheap getaway in the UK? Forget London, check out these five stunning UK destinations that will blow your mind away without blowing your budget.
With the cost of living shooting up the past year, is an inexpensive getaway still possible in the UK? The answer is a resounding yes. Despite being an expensive place to live in, the UK has loads of affordable destinations for travellers on a budget. A low-cost trip doesn't mean you have to sacrifice comfort, relaxation or quality. Luckily, the UK teems with breathtaking beaches, dramatic landscapes, historical landmarks, and idyllic countryside – all of which are generally free.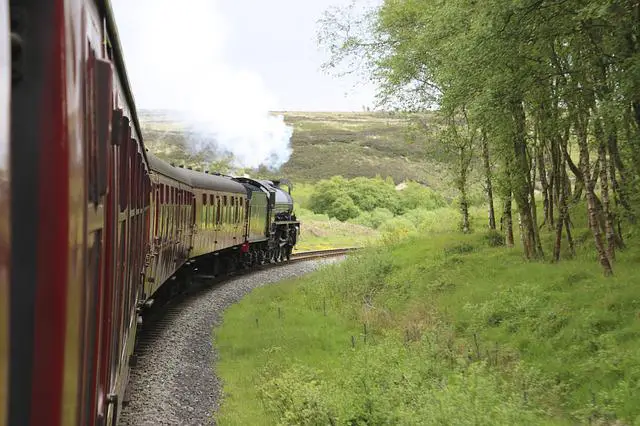 Disclosure: Untold Wanderlust contains affiliate links. If you click on these links and make a purchase, we will earn a small commission at no extra cost to you. You can find our full disclosure policy and privacy policy here.
1. North Yorkshire
The spectacular county of North Yorkshire covers 9,020 square kilometres, about 40 percent of which comprises national parks, including the North York Moors and the Yorkshire Dales. You get rugged cliffs, sandy beaches, market towns, fishing villages, medieval castles, and majestic cathedrals. And it does not cost a fortune to see these attractions.
Accommodations play a crucial role in every trip. Good thing North Yorkshire has plenty of budget-friendly lodging, ranging from hostels to hotels to holiday homes and parks. A survey lists two North Yorkshire resorts – Filey and Scarborough – among the top six affordable seaside towns in the UK. While hotel stays are fantastic, North Yorkshire's outdoors are too beautiful to pass up. If you're looking for the ultimate low-cost accommodation, check out Yorkshires top-rated glamping and camping sites.
Apart from the North York Moors and the Yorkshire Dales, other free attractions in North Yorkshire include the York Minster Cathedral, York Garden Museums, York's City Walls, Druids Temple, Ripon Cathedral, National Railway Museum, the Brimham Rocks, and the Craven
2. Devon
Sweeping beaches, windswept moorlands, fossil cliffs, and medieval towns – Devon is undoubtedly one of the most scenic places in the UK. On its south coast, you will find the English Riviera, a sprawling stretch of striking coastline and countryside that includes the towns of Babbacombe, Brixham, Paignton, and Torquay. 
Devon is not exactly cheap, with hotel rates ranging between £50-250 per night. But it has some outstanding alternative accommodations to suit visitors on the tightest budgets. Vacation rentals are your best choice if you're travelling in a group. Hostels can cost as little as £40 per night, depending on the location. Still, the cheapest options are campsites or holiday parks.
For the budget-conscious traveller, Devon offers varied sights to see and things to do for free or for a small fee. Spot wild ponies in Dartmoor, explore Exmoor, look for fossils on the Jurassic Coast, go crabbing in Appledore, rock pool in Wembury Beach, or wander around the colourful village of Clovelly. To get around, try cycling coast to coast from Ilfracombe to Plymouth. You can also enjoy a hike along the scenic Southwest Coast Path.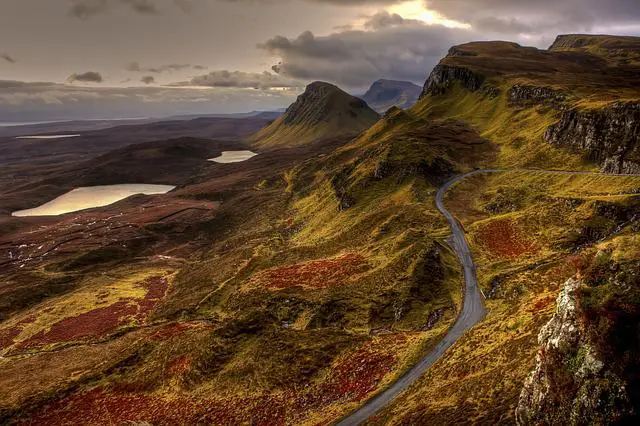 3. Scotland
Scotland is a destination that has it all: a rich culture, lively cities, quaint towns and incredible landscapes strewn with crystalline lochs, windswept beaches, rugged mountains and lush countryside. It's a haven for history buffs, with its mishmash of medieval castles, unique museums, and intriguing past. For food lovers, it is a gem with its great eats and thriving culinary scene. Without a doubt, Scotland is worth the splurge. But you don't have to overspend to enjoy a getaway here.
Scotland has a wide range of accommodations to suit every traveller's needs. For cheap lodging, you can find hostels that offer bed dorms for £18-22 and private rooms for £40-65. If you're visiting a smaller town, you can book an Airbnb for as little as £40 a night. There are also plenty of inexpensive campsites that cost around £17. Looking for something different? Check out some of the most unique accommodation options in Scotland to stay on a budget-friendly getaway.
Contrary to popular belief, there's more to Scotland's local food scene than haggis and whiskey. And you get a lot of cheap options, too. Prepare £10-12 for a typical Scottish meal. If you want a three-course meal at a mid-range restaurant, expect to pay around £27-30. Of course, there's street food, which costs between £6-8. Not surprisingly, you'll find the cheapest options near universities.
Most of the attractions in Scotland don't cost much. Visit its cathedrals, walk around Glasgow, see the otherworldly Smoo Cave, take a boat to the Isle of Arran, hike the Cairngorms, make a beeline for the Isle of Skye, and explore Edinburgh. 
4. Wales
Located in the rocky southwest outskirts of the UK, Wales boasts a vast coastline, national parks, towering castles, idyllic towns, and lush countryside. Cardiff, its capital, bustles with vibrant nightlife and posh shopping and dining options. In contrast, the Snowdonia National Park, arguably Wale's most famous attraction, evokes rustic and mystical charm with its hundreds of lakes, glacial landforms, undulating mountains, and scenic hiking trails.
Wales is far from cheap, but there are plenty of bargain accommodations, no-admission attractions, and no-cost activities that you can enjoy no matter your budget. The least you can spend per day is £20–25. That is if you're camping and preparing most of your meals. The cost may rise to £35–40 per day if you're staying in a hostel and £80 if you're staying in a mid-range hotel and eating well at restaurants. It's always wise to book in advance and avoid peak times to save money on your trip.
Wales is never short of free attractions to explore. For a start, it's home to 870 miles of breathtaking coastline, teeming with immaculately preserved castles, secluded coves, limestone cliffs, fishing villages, and cultural hotspots. Wales has seven national museums that showcase world-class exhibits for free, including the National Museum Cardiff, St Fagans National Museum of History, National Waterfront Museum, and the Big Pit National Coal Museum. In addition, you can bike for free on the 331-mile National Cycle Network and stargaze at the Elan Valley International Dark Sky Park.
5. The Lake District
Stepping into the Lake District is like stepping into a fairytale. Its endless stretch of natural beauty is free to enjoy, but everything else – accommodations, activities, attractions – comes at a hefty price. It doesn't mean you can't travel to the Lake District on a shoestring budget.
Accommodations can take up a chunk of your travel expenses, so it is crucial that you choose your lodging with care and well in advance. Check out the hostels and campsites around the Lake District; most have budget-friendly options. If you prefer to stay in a hotel or holiday home, steer away from the main tourist hubs. Head to the countryside, where you'll find delightful little villages. More likely, you'll discover a charming and cosy (and cheap) cottage tucked away in the serene setting. 
Take full advantage of the gorgeous scenery by hiking as much as possible. You'll find well-marked trails leading to incredible views. Rent a bike to get around, buy your food from a farmer's market, explore the less popular lakes (they're just as pretty as the famous ones), and wander around the beautiful villages across the district to uncover hidden gems.